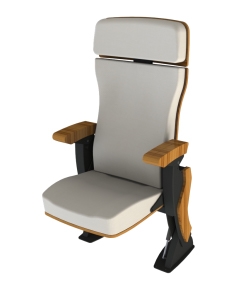 MASTER Lya
This is a stylish, top-of-the-range chair with a technical design. Its innovative concept and integrated hinges give it a very sleek look and it can be finished in many different ways. The only chair for telescopic bleachers which includes a head rest, it embodies all the MASTER Industrie know-how.
Available in several different versions, this chair is suitable for the following uses:
(FDG) Chair with hinged seat folding down flat forwards for retractable seating systems.
(F) Fixed chair for balconies.
(D) Beam-mounted moveable seats.
When the chair is opened, the backrest rises by 12 cm for the very highest level of comfort. It is fitted with armrests which lift automatically when the seat base is lifted.
The headrest folds down in front of the seat base in the closed position for a very high quality finish.
The gas-assisted operation and its automatic folding and unfolding function (coordinated with the movements of the tiered seating) mean this is a very high-performance chair in many different respects and unique on the market.
Features
Use: Chair with hinged seat folding down forwards on stand (Rear mounted)/Mounted on moveable beam / Attached to the floor.
Operation: Manual (pedal operated) or automatic.
Attachment System: On stand (2 self-tapping screws on the structure + 4 hinge screws on the floor).
On the floor (mechanical anchors and screws suitable for the surface).
Seat Folding Mechanism: Automatic (gas-assisted).
The MASTER Lya chair complies with article AM18 with regard to the fire safety of upholstered chairs.
Metal Frame
Tubular frame made using robot-assisted mechanical welding from laser-cut parts and machined pins for greater precision and an improved finish.
Protective Coating: Thermosetting paint. Standard colour: Black (RAL 9005).
Other colours available, upon request.
Backrest / Seat
Metal sleeves built into the backrest and seat, attached to the chair's metal frame.
Wood frame made of beech plywood, 13mm thick, shaped over the entire width.
Comfortable, high-resilience polyurethane foam cut to shape, density 35 to 45 kg/m3, glued to the wood frame.
Ergonomic shape for maximum comfort.
Folding headrest.
Removable fabric cover with zip.
Double-stitched cover on the front of the backrest and the upper side of the seat cushion, for an elegant finish.
Foam-backed fabric, 6 mm thick.
Armrest
Laser-cut and robot-assembled hinged metal frame.
Automatic lifting (gas-assisted).
Armrest pad made of upholstered foam or stained and varnished wood.
Options
Choice of fabrics.
Wooden casing behind the backrest and under the seat.
Painted sheet metal casing behind backrest.
Deluxe armrest.
Numbering.