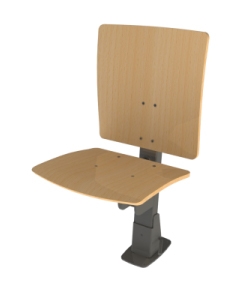 MASTER Olonne (Spring)
MASTER Olonne Chair with a wooden seat and backrest. It is designed for intensive use.
Option : backrest covered with one or more cushions.The cushions provide a level of comfort halfway between a fabric chair and a wood chair for longer lasting comfort. Available in several different versions, this chair is suitable for the following uses:
(FDG) Chair with hinged seat folding down flat forwards for retractable seating systems.
(F) Fixed chair for balconies.
(D) Beam-mounted moveable seats.
These seats are folded individually with a reliable, quick-to-use mechanism at the foot of the metal frame.
Features
Use: Chair with hinged seat folding down forwards on stand (Rear mounted)/Mounted on moveable beam / Attached to the floor.
Operation: Manual - Pedal Operated.
Attachment System: On stand (2 self-tapping screws on the structure + 4 hinge screws on the floor).
On the floor (mechanical anchors and screws suitable for the surface).
Seat Folding Mechanism: Automatic (spring operated).
Metal Frame
Tubular frame made using robot-assisted mechanical welding from laser-cut parts and machined pins for greater precision and an improved finish.
Protective Coating: Thermosetting paint. Standard colour: Black (RAL 9005).
Other colours available, upon request.
Backrest / Seat
Metal frame directly attached to the wooden backrest and seat.
Wooden backrest and seat made of beech plywood, 13mm thick, shaped over the entire width.
Ergonomic shape for maximum comfort.
Armrest
Laser-cut and robot-assembled hinged metal frame.
Manual operation.
Wooden armrest pad with a stained, varnished finish to match the backrest and seat.
Options
Fabric cushion on backrest and seat.
Numbering.