Standards and Warranty
CE Marking
To meet the European Construction Product Regulations, applicable in all European countries, the CE marking of retractable stands is now mandatory. To affix a CE plate to their stands, the manufacturer must meet the EN 1090-1 standard and have been certified by an authorised organisation.
MASTER Industrie was certified under the number 1166 - CPR - 0179. The authorised organisation is the CTICM.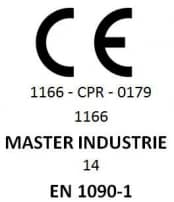 Standards
NF EN 13200: Installations for spectators:
NF EN 13200-1: Characteristics for spectator viewing areas
NF EN 13200-3 requirements: Separating elements
NF EN 13200-4: Seats
NF EN 13200-5 Product characteristics: Telescopic seating systems
NF P01-012: Dimensions of railings - Safety rules concerning the dimensions of railings and hand rails on stairs
NF EN 1991: Eurocode 1 - Actions on structures
NF EN 1993: Eurocode 3 - Design of steel structures
NF EN 287-1: Welder qualification Fusion welding
NF EN 15614: Description and qualification of a welding operating procedure
Steel Paint: Polyester powder by specialised, ISO 9001 and ISO 14000 certified company
Our welders are suitably qualified and supervised by a welding coordinator as required by the NF EN 1090-2 * standard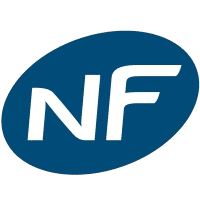 Warranty
MASTER Industrie equipment is guaranteed for:
1 year against manufacturing faults (parts and labour) related to the operation of the seating.
1 year for the electrical equipment and seats.
5 years for the metal structure of the stands.
The following are excluded from our warranty: damage to the seating due to mishandling, non-compliance with the instructions for use and damage caused by the public in the stands.
Our warranty is terminated if an outside company carries out any operations on our equipment for the purpose of modification, repair or maintenance without explicit written agreement from our company.