Bleacher Seats
Tiered Bleacher Seating
Bleacher seating is another name for tiered or raked seating. The term is mainly used in the USA where bleachers were traditionally an outdoor, wooden, tiered seating unit for sports stadia, with benches for the spectators to sit on.
Bleacher Seating Systems
More recently, bleacher seating has started to be used to describe any seating system that has tiered platforms; it could be a fixed grandstand or a retractable stand that is opened and closed to save space and change the configuration of a room. The platforms of the stand are the bleachers and they can be straight or curved depending on the venue and the audience requirements.
Individual rows of seats are installed on the platforms, normally in single rows to ensure that every member of the audience has a good view of the stage. However, if a venue has a particularly low ceiling, a double row of seats can be installed on each bleacher, maximising the capacity. The second row can be raised slightly to maintain a staggered layout.
The bleachers can also be kept bare and used to seat spectators without installing individual chairs. This option is suitable for smaller children or audiences of mixed ages and sizes as there are no defined spaces and so potentially a larger number of people can be accommodated. It is also suitable for short shows or events where comfort is less of a consideration.
Master Industrie also offers the best of both worlds, with foldaway seats which tuck away into a compartment inside the bleachers. This innovative option gives you the flexibility to change the type of seating depending on the event and the audience.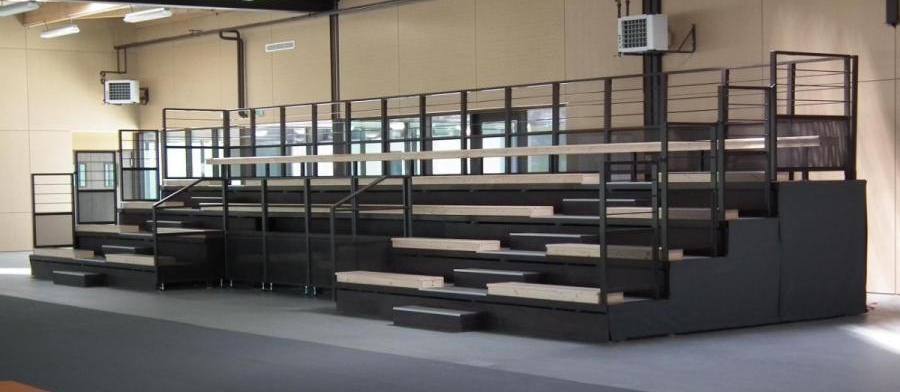 Seats For Telescopic Stands
If you choose to install seats on your bleachers there is a wide range of options available, from hard wearing wooden bleacher seats to weatherproof plastic seats for outdoor events or padded fabric seats with arm rests for upmarket theaters.
Even if your seating system is telescopic (another name for retractable) you can choose to install bench seats to give you all the space saving benefits and flexibility of a conventional bleacher stand. A wooden bench will reflect the look of a traditional bleacher seat while a padded bench with a backrest adds a touch of luxury.
Automated Retractable Bleachers
For maximum flexibility, telescopic bleachers can be semi automated or fully automated. For venues that need to change their seating configuration regularly a fully automatic stand can provide a fast, and safe turnaround even with a very small team. All parts of the seating system can be opened and closed at the touch of a button, including seats, armrests, railings and end panels.
The stand can also be motorised to enable it to be moved to another location quickly and easily once it is closed. Our Master Eureka system can rotate as well as move forwards, backwards and sideways, making moving your bleachers simple.