What Is Retractable Seating?
First of all, "retractable seating" and "telescopic seating" are interchangeable terms for seating that folds up to increase the flexibility of a space.
Retractable seating systems are commonly associated with large stadiums, sports halls and concert halls. However, evolution in the design and manufacture of venue seating has made flexible seating a serious option for a much wider range of spaces.
Horizontal Retraction? Vertical? or Both?
Horizontally retractable seating is the most common telescopic seating in use and our discussions here will focus on this type of seating; but there are also some amazing innovations that enable vertical retraction, and others that allow the flexibility of both horizontal and vertical movement in a seating system.
Limitless Options For More Than Just The Utilitarian Bleacher
Telescopic seating is not just for utilitarian, hard, bleacher or bench style seating. As the technology used in the design and manufacture of seating systems evolves, the opportunities available to venue owners are limitless when they work with the right seating manufacturer.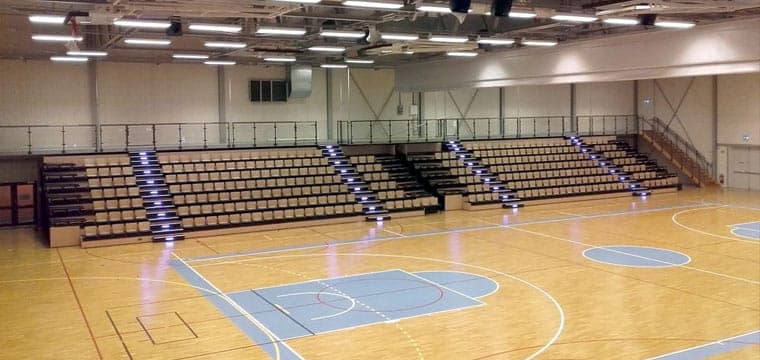 From adjustable heights to new folding mechanisms and chair designs this style of seating can revolutionise the way event spaces are used. The flexibility to swap between tiered and grandstand seating, to extend the amount of seating as it's needed or bring in 'bolt on' mobile telescopic seating allows a venue to maximise both space and profit.
Why Is The Choice Of Venue Seating So Important?
Around the world, venues have a need for seating. Naturally, the better the seating the happier the users and the happier the users the more likely they are to return, adding to the venue's success.
Good quality seating can transform a business but it can also restrict it, especially when fixed seating limits the types of event that can take place. Venues have to be flexible in order to survive and prosper. This is where seating systems which offer mobile, modular or retractable features really come into their own.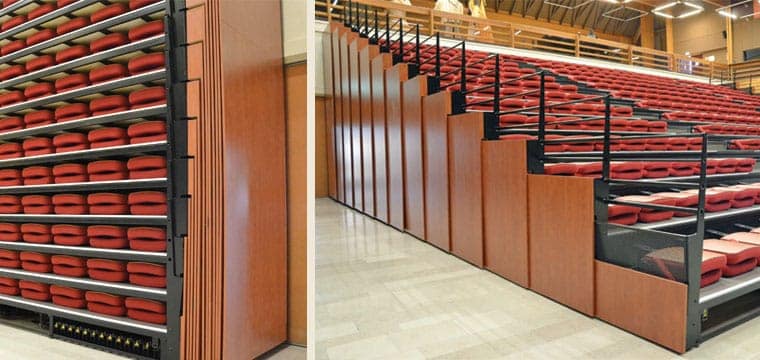 What Type of Venues Could Benefit From Retractable Seating?
Regardless of the size, shape or purpose of your venue, retractable seating can make a difference. Rather than armies of staff setting up seating chair by chair, retractable seating systems let you set up large scale seating in a fraction of the time, with far less labor.
Advancements in retractable seating design, manufacture and configuration enable any venue to be transformed: a school gym hall can become a lecture theater or a local community space can become a sporting arena.
Working Around You
Retractable seating can be extremely flexible when you work with the right company. By assembling seating solutions on-site, manufacturers can work around difficult or limited spaces including those with restricted access. For example, most local community halls are utilised on a wide range of occasions and would definitely benefit from flexible retractable seating but they may be put off due to the limited space and access at their venue.
Modular designs help venues get around these issues, allowing the seating to be brought in stages and then assembled on site. In addition, modular seating can be mobile, fixed or a mixture of both. Fixed modular designs allow you to maximise your floor space, only fitting the amount of seating you require on a regular basis. Alternatively, bolt-on mobile retractable seating can be added to fixed retractable seating for when you need to seat a larger audience.
In tough economic environments, fully replacing a venue's seating may not be in the budget, even though venues are under pressure to become more versatile. By working with a supplier that designs and manufactures custom seating systems you have the opportunity to create a complementary seating system which can be added to your existing fixed or mobile equipment. This offers the additional flexibility and versatility your venue needs without the cost and upheaval of a completely new system.
Alternatively a completely mobile modular system can be assembled together into a large seating system while also separating into smaller 'stand alone' systems. This allows for one seating system to be used throughout a venue in multiple rooms or easily stored out of the way when you need to maximise your floor space. By introducing improved flexibility to your venue you can increase usage and therefore profitability.
Starting From Scratch
In an ideal world a venue would be able to design its space around its seating systems for maximum flexibility and profitability but this is not normally feasible. When designing auditorium seating the list of guidelines and restrictions can be overwhelming, especially if you are an architect or venue manager. For many architects the ability to create a custom retractable seating system for their space is a dream but realising this dream can seem impossible.

With the right supplier you can create a customised modular seating system which will complement your building design and help you capitalise on the available space.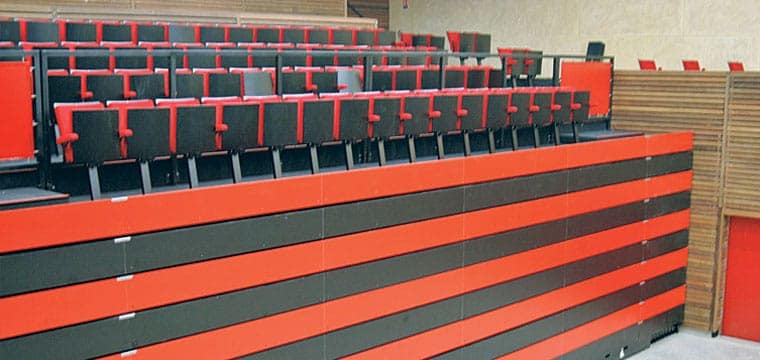 What Are My Options?
The vast amount of options available when looking at venue seating can be overwhelming. From deciding the layout and configuration of your seating to the style of the seat itself, there are many issues that need to be considered.
Despite expectations, retractable seating can be provided in curved (ideal for theaters) as well as standard straight angled configurations. You can create seating systems with a single or double row of seating per tier in addition to including removable seats and retractable boarding to create grandstand areas. It is essential to first consider what the space is intended for. For example, if the main intended purpose for your venue is theater, auditorium and music then it is essential to consider the acoustics of your space and how seating can influence and complement the space and help with audience engagement.
The intended purpose of the space can also influence your choice of materials when it comes to your seating. If your venue is a school sports hall which will primarily be used for sporting activities, it would be a logical choice to consider plastic folding seats which fold back and underneath each other for easy maintenance and cleaning.
Audience comfort is an extremely important consideration for a venue owner, as the overall experience can affect whether or not a spectator returns to a subsequent event at your hall. For events requiring the audience to remain seated for lengthy periods of time, a padded seat can make all the difference.
From leather and fabric to plastic moulded seating and wood surface finishing, you can select the style and materials that suit your venue, its purpose, your audience needs and any existing furnishings and finishes.
Accessibility
With new legislation every venue must consider how accessible their venue is. This can cover a range of additional considerations including:
The heights of tiers
The ability to have support railings
Additional lighting for low visibility venues
Removable seating for wheelchair users
With the right supplier these additions can complement and enhance your seating instead of being an afterthought.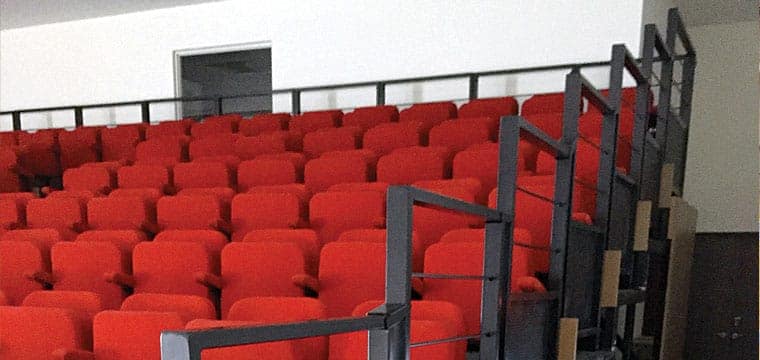 The Ultimate Flexibility in Seating
With any venue there is likely to be a demand for the space to be as multifunctional as possible to accommodate the maximum number of events, therefore becoming more profitable. However the seating requirements for a sports event are very different than that required for a music concert or play.
This is where innovations can transform your space and how you do business. The main concept behind most of these modern and flexible styles is a modular component. Modular seating allows a venue to tailor their seating to the demands on the venue, for example by only extending the amount of seating required for that event. This evolution in retractable and telescopic seating allows a venue to cater for nearly every situation with minimum effort and disruption.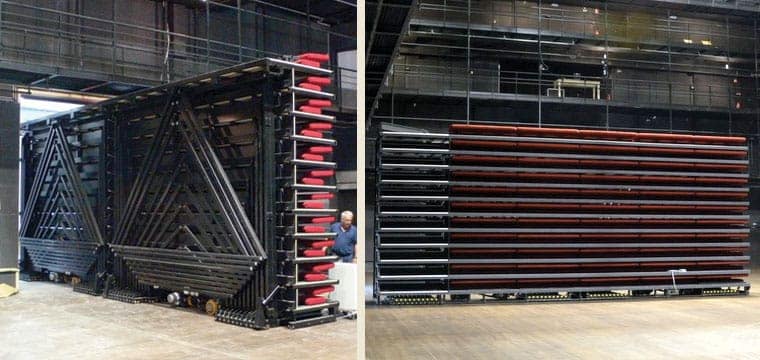 One of the latest innovations in modular retractable and telescopic seating is The Eureka System. This movement system is multi-directions and pivotal - moving sideways and by 360° completely independently via a simple remote control - opening up additional storage possibilities.
For many venues tiered seating is a must to optimise the use of their space. For example, at a sporting event or a theater performance tiered seating is practically a must.
However, there are still a lot of preconceptions about tiered seating including:
Lack of flexibility
Uncomfortable / rigid seating
Heavy and hard to maneuver
Bulky
Industrial
Another preconception is that retractable seating also means tiered seating however this is not the case. With new innovations in engineering and seating design retractable, telescopic seating can be level as well as tiered. Master Lift systems offer this flexibility while also being vertically modular, again to allow you to tailor the seating to the demands of the event. For example, with Master Lift you have the flexibility to create single row full height modular seating at the sides while central seating may be more accessible with double row, low height steps/tiered.
For many, handrails are essential when considering tiered seating but it doesn't need to be an afterthought. Hand rails can be telescopic to minimise set up time but they can also be beautiful. As the industry continues to evolve the opportunities become endless.
With the Retraclift system venues can have seating which is:
Retractable
Mobile
Horizontally and vertically modular
Accessible
With:
Seating and grandstand options
Various add on options including lighting and handrails
In a variety of:
Master Lift systems can also include additional elements like staging and platforms for a full space renovation.
No More Hard Labor
Gone are the days of manually putting out seating chair by chair. Retractable seating refines and optimises the process allowing for a quick, minimal effort way to set up a large amount of seating.
With innovations in the industry your venue can have mobile and retractable seating which requires minimum manual setup and therefore a quicker turnaround. The mobility of a system also depends on how the weight of the system is distributed. For optimum flexibility and maneuverability not only is it important to look for a seating system with wheels but also with a weight distribution system. This ensures the weight of the system is evenly balanced, regardless of how much or little it is extended, therefore protecting your staff's backs and your venue's floors.
Automation, Automation, Automation
Mobile, retractable seating can also be automated with motorisation built into the stand. This allows for a quick turn around throughout your venue with minimum effort, for example, where you have multiple spaces. However motorisation means so much more than just horizontal and vertical movement. With seating systems such as EUREKA you have the ability to move your seating as a whole or in modular sections and rotate it on its axis.
The consideration of automation when designing a venue's seating can transform how you do business and generally use your space. By including these features at the design stage you can guarantee a smooth motorised seating system which works effortlessly and speeds up the changeover process so that you can run more events.
Safety First
When choosing mobile and modular retractable seating systems you need to be certain about its stability, its locking system and generally how safe and easy is it to set up, use, take down and move about.
However, you don't want to hire a team of engineers to set up and maneuver your venue's seating every time you change it. This is where automation can offer additional reassurance through guaranteed stability while minimising the risk of human error. It is also important to ensure that any seating system you choose meets all the appropriate standards, comes with training and of course a warranty.
What Do You Need To Consider When Buying
The Space / Use:
Do you have existing seating systems, that you want to keep/work around?
Dimensions of the space(s)
Accessibility to your space/venue
What is the intended main purpose of your venue?
The Style:
Do you want curved or straight seating?
What style of seat do you want? (bench, singular chairs)
Do you want a tailored system or a complete customised system?
Do you want fixed or mobile seating or a combination of both?
The Materials:
What materials do you want?
What materials are suitable for the primary intended use? (for example, if your venue is an outside space such as a sporting stadium, materials such as fabric seats would not be suitable)
What materials will complement any existing seating?
Accessibility / Add Ons:
Are there any special needs/accessibility considerations? (removable seats, minimum height steps)
Do you want any add ons? (Lighting, seating numbers, railings)
Operation & Maintenance:
Do you want an automated or manually operated system?
Will the system need to be regularly moved?
How easy to clean does it need to be?
Will you require operation training?
Do you require guidance and locking systems?
What type of floor is it to go on? Does it need a load distribution system?
Financial:
Installation and Maintenance
Modular seating systems allow a venue to have a large scale seating system without the concern of not being able to get it through the door. By being able to 'break up' a venue's seating system you can assemble your seating on site. The added benefit of a modular system is that it can also be mobile. This allows easy setup and dismantling while also allowing for components to be moved throughout your venue whether it is to provide seating in another space in your venue or to store out of the way when you need maximum floor space.
Whether you have an automated or manually operated seating system, good maintenance is essential. Any retractable or telescopic action needs to be smooth to prevent damage and even injury. One of the key issues that these mechanisms are going to face is dust and general debris which can prevent the smooth movement of the mechanism. Check if a maintenance contract is available to provide reassurance that your seating system is always in perfect working order.