Cultural and Theater Seating
Modern Theater Seating Stands
Our functional, flexible and attractive theater seating platforms are ideal for music, theater and other entertainment events. Dimensions are tailored to your venue size and layout and the number of spectators.
Multi-Purpose Theater Seating Platforms
Choose from easy-to-use manually operated retractable theater seating or automatic seating, deployed and folded with a remote control. Both of these seating options are easily transported using our EUREKA system, which makes movement much easier, and avoids any damage to flooring during the installation. All of our products are delivered ready to use and users are trained to operate them on site.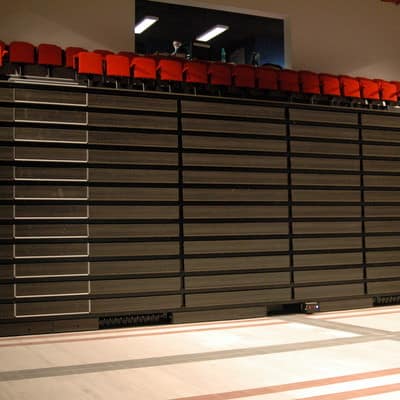 Comfortable Theater Chairs
We offer a wide range of theater seats from wooden to upholstered, with fabric and leather options available. To make sure that your audience has the best possible view of the shows or the events they attend we can install some tiered theater seat platforms in a curved arrangement to allow a more intimate experience and increase audience engagement.