Seating For Colleges and Universities
Students spend many hours sitting in lecture halls over their years in college or university, and the intensive nature of a lecture means that there is a huge amount of information to take in during an hour or so. It is therefore essential to make sure that seating for your students is comfortable, supportive and fit for purpose, letting them focus unhindered on the information in front of them.
Seating Systems For Your Lecture Theater
There are a number of key points to consider when you want to install a seating system in your lecture hall. Firstly, do you want fixed or flexible seating?
Fixed seating
In many cases, your space will be used for lectures and talks on a daily basis, in which case, a fixed stand will be suitable. In this situation, you need to look at the size of the room, the ceiling height and the number of seats required. We can configure the seats and rows to best fit your requirements. For example, if you have a low ceiling, you may prefer to install a double row of seats on each bleacher to increase the capacity.
Flexible Seating
If, however, you want to create a multipurpose hall suitable for a variety of uses when it's not being used for lectures, you should look for modular and retractable seating. This kind of flexibility allows the seating to be fully or partially folded away to free up floor space. There's also an option to have seating on mobile platforms that can be moved manually or by remote control.
Modular seating
Modular seating is built in blocks, enabling you to install only the amount of seating you are going to use the majority of the time. Additional modules can be added and removed as they are needed.
Retractable seating
Telescopic seating gives you the flexibility of folding up your stand when you don't need it, freeing up floor space to use for other types of event. Partially opening systems let you open or close rows of seats at the front, adapting the capacity for smaller audiences or to enable spectators to stand at the front of the room. Retraction can be manual or motorized.
Mobile seating
Being able to move your seating stand gives you the option to set up the room in different configurations or remove it from the room completely. Our Eureka System enables you to move your stand in any direction safely and easily without the need for lifting equipment.
Seats for Lecture Halls
Wooden Seats
Wooden seats are strong and hard-wearing, perfect for educational purposes. A tip-up seat base maximizes the free space in the aisle and they can be equipped with writing tables, armrests or upholstered cushions.
Fully Upholstered Seats
For conferences and seminars you may want additional comfort, and seats that fold up and down manually or automatically when operating the stand. You can customize the design, choice of fabrics, armrests and backrest protection to your individual requirements.
Our Recommendations For Lecture Theater Seats
For lecture theaters we mainly recommend three types of seats:
MASTER Ontario

Simple, lightweight seats with a spring-loaded, tip-up movement make the MASTER Ontario great value for money for budget-conscious universities and colleges. Included in this range are the Ontario, the Ontario+ and the S-version that can be adapted to your aesthetic and ergonomic requirements. These seats are:
Made for large capacity venues
Long lasting
Easy to clean and maintain
MASTER Orator

Carefully built for comfort, the ergonomically designed MASTER Orator is ideal for halls that will be used to host events of a longer duration, for example, congresses or conferences. Features include:
Padded seats
Silent seat movement
Fixed armrests
MASTER One

Both comfortable and functional, the MASTER One seat is ideal for spaces with high traffic as it has been designed to withstand heavy use. Again, available as the One, the One+ and the S-version with its made-to-measure options, the MASTER One features:
Fabric chair
Durable
Easy to maintain and clean
Writing Accessories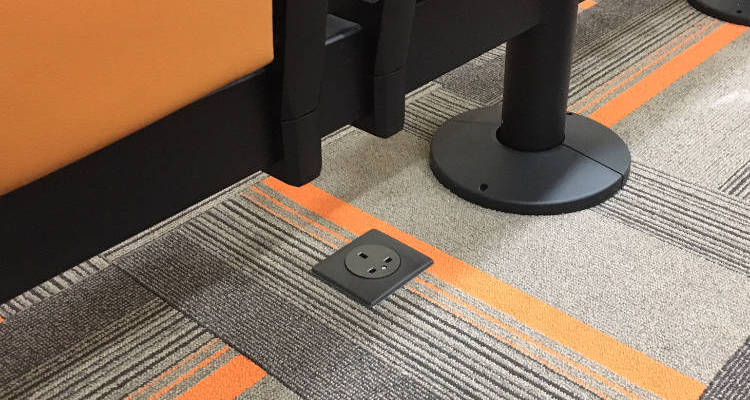 During a lecture or a conference, you want to be able to take notes comfortably. We offer a choice of writing tablets:
Different configurations and sizes
Individual or continuous
Fixed, foldable or removable
Attached to the backrest or armrest.
We've designed seating for educational establishments all around the world.
Ecole Anfa Auda, Casablanca, Morocco >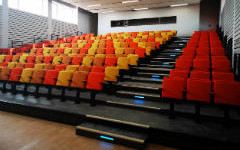 Kuale Skule, Sogndal, Norway >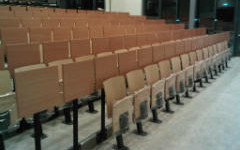 Music School, Moscow, Russia >