Multipurpose Venue
Conventum Arena is a state-of-the-art multipurpose venue for concerts, fairs, conferences and banquets, located in Örebro, Sweden. With a clear floor area of 3800 square meters without pillars and a ceiling height of 15 meters, up to 6000 people can be accommodated.
Because the construction of the space is unusual, the architects approached Master Industrie and our local distributor, Sparta System, to find out what bespoke seating options they could provide. The result was a system where the stands open and close in reverse, with the front of the stand staying still while the rear of the telescopic stand moves forwards and backwards to close or open as required.
Move by Remote Control
The 760 capacity stand is built in two sections and uses the Eureka system to avoid overloading the floor with the weight of the stand as it moves and to allow multiple configuration possibilities.
The layout of the arena can now be changed quickly between events to suit the type of performance and the size of the audience. In addition, the entire retractable stand can move by remote control across the floor to be stored along the walls.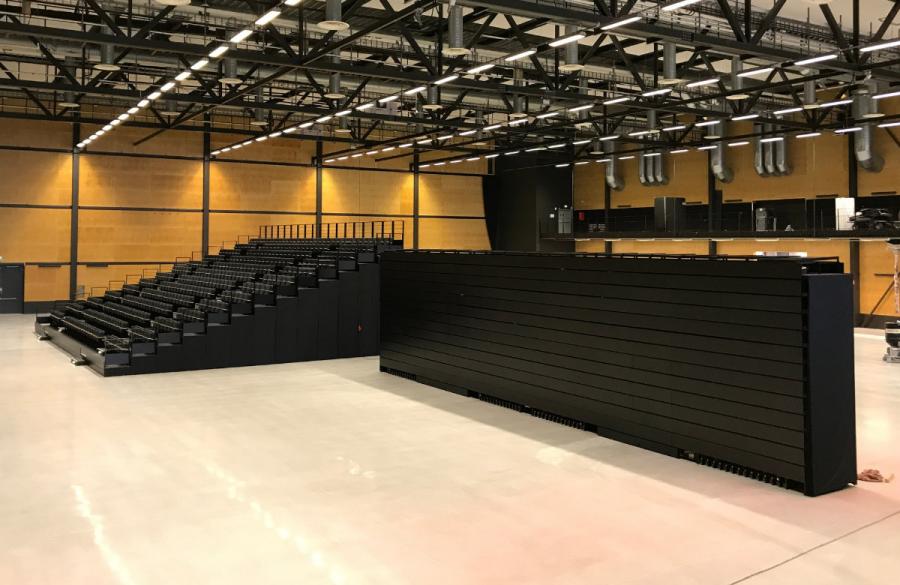 Four Section Retractable Stand
For the Fröding Arena in Karlstad, Master Industrie were asked to design, supply and automate the retractable seating system to replace the existing one that was already out of order after only a couple of years of service. Noctor Bygg AB was the main contractor. We completed the process and installation together with our Swedish agent, Sparta System. They are now taking care of maintenance to ensure decades of service.
We designed the stand to meet the venue's unique requirements, with four separate sections, seating a total of 835 spectators, allowing it to be folded out in whole or in part in minutes. At the touch of a button the stand opens and the seats rise into position.
Space Saving
When folded, the stand can be rolled under a balcony to take up minimal space. It has spaces for disabled spectators in the first row, a non-slip floor and foldable safety side rails. It is also durable and easy to keep clean. Because the telescopic stand is CE certified, it meets all applicable EU requirements for function and safety.
The MASTER Evance Auto, a chair with upholstered seat and a folding backrest of lacquered, light beech wood was installed to complement the venue's décor. "It has become really homely in the arena now," said one visitor, referring to the elegant chair and color choices.