When architects worldwide dream up seemingly "impossible designs", they need a partner with stand and seating engineering expertise to bring their ideas to reality. Let's go back to 2012, a truly exciting year for us, when so many new venues, with spectacular and innovative seating, were inaugurated.
Helping To Bring Incredible Designs To Life
Corner stands can bring particular challenges. Unlike traditional stand design, corner stand creation can be exceedingly difficult to get right. Imagine being tasked with designing telescopic seating stands where, in the corner areas of a circular stadium (who knew that circles have corners? Well, in the world of stand design and seating planning they do!) the rows of seats and handrails/guardrails must all retract and contract smoothly and quickly. When the whole idea of the circular stadium design is to ensure that every single spectator gets a perfect view of the event, corner stands (that can be manoeuvred telescopically) are a veritable must. And you might be talking about literally thousands of seats.
5 Telescopic Stands, 7,000 Seats
At the Pierre Mauroy Stadium in Lille, MASTER Industrie rose to the design challenge, creating for the client not less than five telescopic stands, including corner stands comprising 7,000 pristine white plastic seats for the stadium add luminosity and elegance.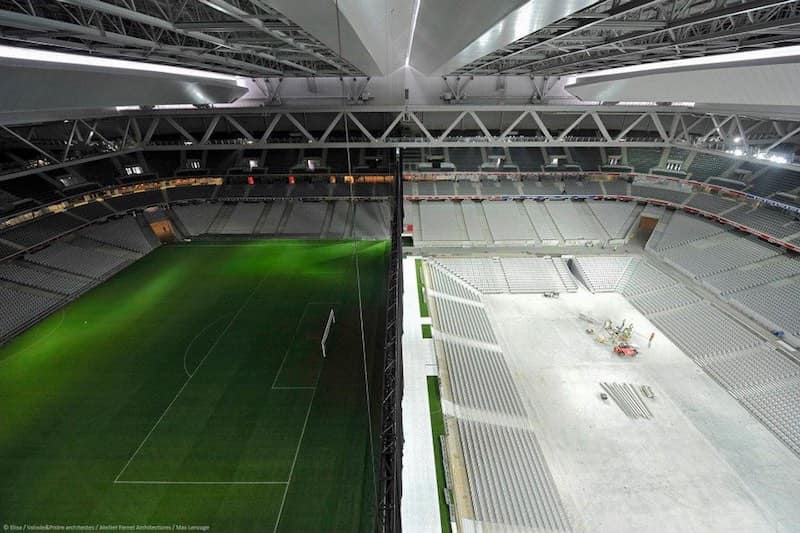 The Five Configurations:
As a football/rugby stadium: 50,000 seats
As a multifunctional venue (boxing, ice-hockey, football): between 10,000 and 50,000 seats
For concerts: the stage is positioned in the north of the field, with 51,000 seats and a movable roof (for indoor or outdoor gigs)
The retractable roof designed to be closable in just 30 minutes (unique in France)
A 'Split System': two semi-fields, the first weighing 4,000 tons and capable of being raised then slid across the other semi-field, to make way for "La boîte à spectacles". The stadium can then be divided into two distinct areas, separated by a large curtain, allowing for all sorts of events to be hosted, with controlled crowd capacities. Take a look!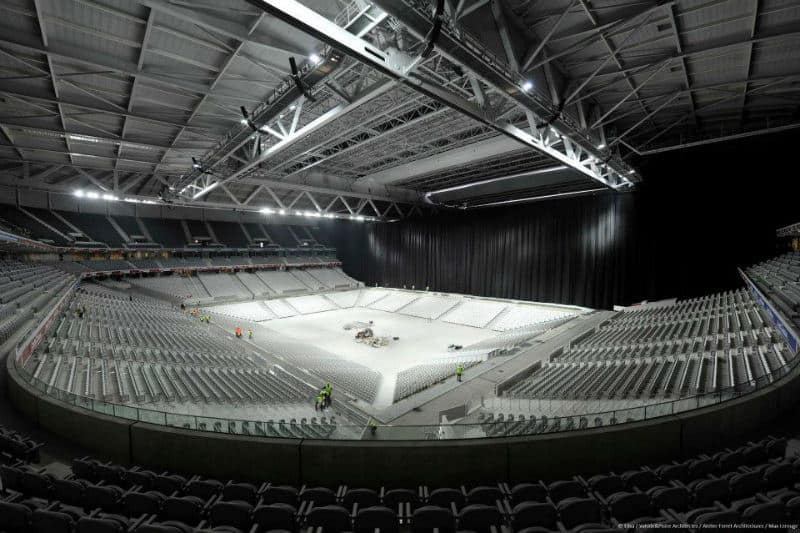 Mission Impossible? Not When We're Involved
Opened in 2012, and located in the heart of Europe, the Pierre Mauroy Stadium has hosted some of the biggest European sporting events, such as the 2016 UEFA European Football Championships, basketball, tennis, and handball tournaments; as well as live performances and concerts. Ticket buyers simply love the stadium's circular shape with unobstructed views for everyone.
The Pierre Mauroy Stadium architect thought the impossible: a modular space with two grounds at different levels, when required - one area when the grounds are upon one another, and two when the grounds lie side by side - would only ever remain on his drawing board. Until he discussed his frustrations with MASTER Industrie, that is.
Seat Adaptation Projects - Creating Something Special
In the same year, MASTER Industrie also came up with the goods at two other venues in France.
The Vendéspace
For a venue to host fun sports events as well as serious theatre productions, concerts by top bands and solo artists, and BIG lavish stage shows that are unquestionably 'must-see', it simply has to have telescopic stands, making the venue 100 percent modular, and fabulously flexible.
Having MASTER Industrie on board allowed the Vendéspace become exactly that. At the sport and cultural complex of the Vendée Department, inaugurated in September 2012, we created:
Four telescopic stands: 1608 seats
5509 wooden seats, identical and custom-made, complementing the room beautifully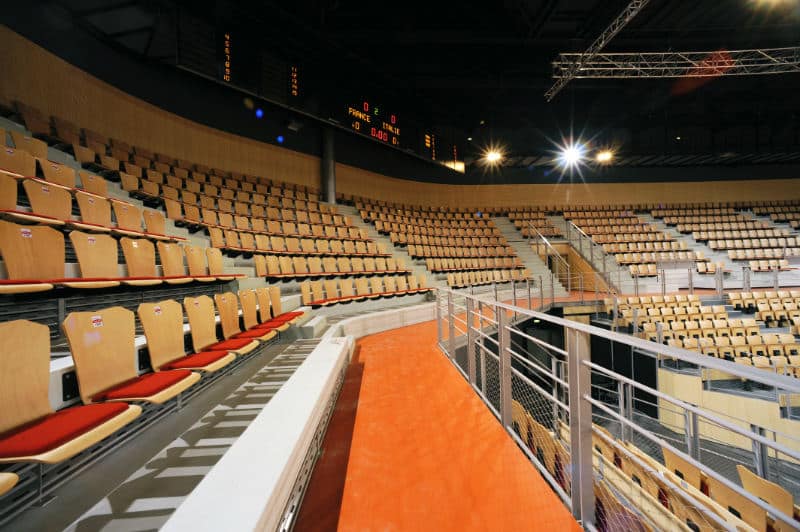 With its convenient modularity, coupled with its world-class equipment, aesthetics and acoustics, the Vendéspace is hard to beat. The great challenge for us was to create custom-made seats incorporating into their design and colour the Vendéen scorched earth tonal mix (paying respect to history), whilst simultaneously making them comfortable, as well as modern-looking, and in keeping with the venue's decor and overall feel.
Thanks to its retractable seating stand system, and the expertly crafted seats themselves, as well as other impressive design features, the Vendéspace soon came to the forefront of multi-functional venues across the world, where it remains to this day, regularly hosting great international sporting events and prestigious concerts. Needless to say, the Vendée Department was thrilled, and greatly appreciated the thought and sensitivity that went into the seating design.
Fine Wooden Seats At Niort L'acclameur
Also inaugurated in 2012 was the wonderful l'Acclameur in Niort in France. A modern, multipurpose room that can host shows, concerts, sport and business events, l'Acclameur needed seating that was "just right" - wooden seats crafted to evoke a kind of natural, almost rustic, theme. These lovely seats are beautifully attuned to the room's existing design and its colour scheme of wood and grey concrete.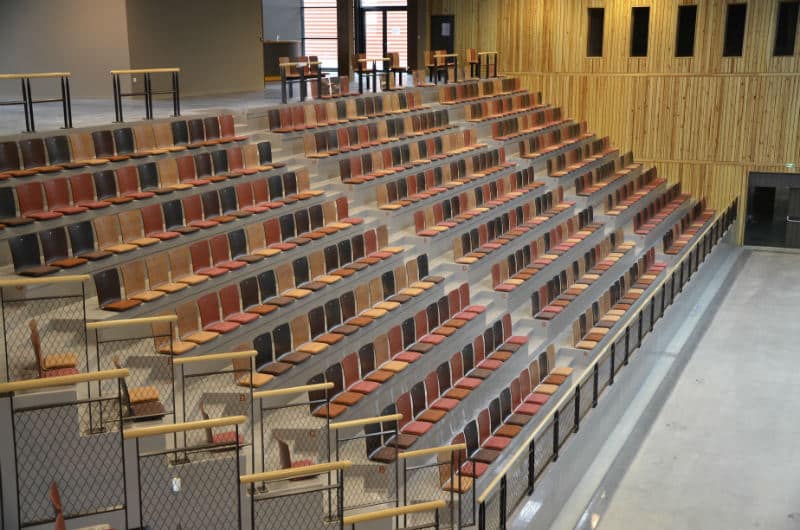 We loved getting to work on that and coming up with exactly what was requested, providing the venue with two configurations: for shows, 2,300 seats or 1,300 standing places; and for sport events, from 2,800 to 4,000 seats.
---