The Pierre Bachelet Performing Arts Theater in Dammarie-lès-Lys, France, is part of an events complex with an amphitheater of 1900m². The entire complex's great success is down to its total flexibility - and this includes the seating stand. In keeping with the venue's remit to host the widest possible range of events, a completely versatile seating stand was required. To this end, a telescopic seating system was built and installed to allow 1294 seats and 320 fixed seats.
The strength of this installation is its immense flexibility! Put on a theater performance for a seated audience with a small number of seats or go for a larger number; set up for both a sitting and standing concert audience with over 1600 seats or an entirely open space for events such as trade fairs and exhibitions. Maneuvers are simple to carry out despite the enormous size of the stand.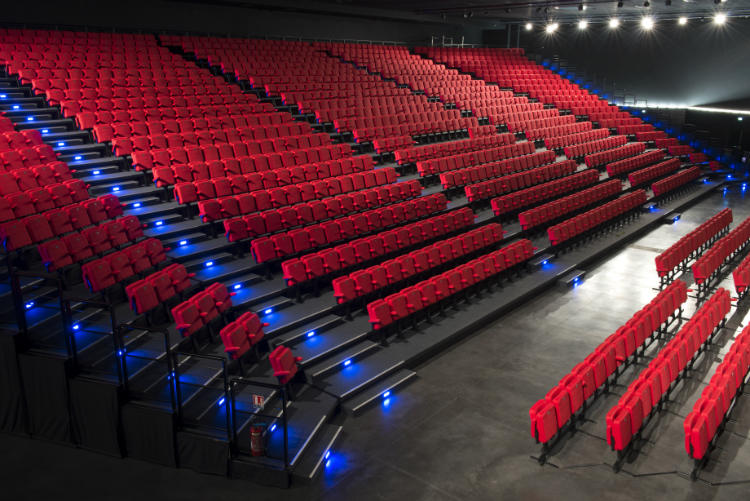 The comfort of the seats is much appreciated by audiences and from a visual perspective, the space engenders awe from the moment you walk in.
The Pierre Bachelet venue is very proud and satisfied with its large telescopic stand. Thanks to Master Industrie the telescopic system is comfortable and looks great when deployed to its fullest extent.
JULIEN BRETON DIRECTOR OF THE PIERRE BACHELET SPACE (DAMMARIE-LES-LYS)
What did our client want to achieve?
The Pierre Bachelet venue needed to be a fully flexible event complex and the seating system had to play its part in this.
Our client wanted a seating system that could seat a large number of spectators and offer various seating profiles to accommodate the wide range of events they host. The seats had to offer absolute comfort as well as durability. As a performing arts theater it's unsurpassed - but its merit as a venue lies in its versatility to host other events from conventions, exhibitions, shows and trade fairs to product launches, gala dinners or corporate functions.
What were the challenges for Master Industry?
Build a versatile, fully maneuverable stand to host a total of around 1300 spectators

Install a telescopic system that's easy to use and reconfigure so that the venue can host the fullest range of events with different capacity and configuration requirements.

Equip the stand with comfortable, durable and functional seats.
How were these challenges overcome?
In response to these requirements, Master Industrie installed a telescopic seating system with built-in motorization for flexibility.
The stand carries 1294 fabric seats and is divided into three parts: a front module and two additional modules which form a trapezium. This shape allows the spectators to have full vision of the stage, regardless of where they're sitting.
Despite its large size, the stand is extremely simple to operate because of its motorization. Once the stand modules are in place, all that remains is to manually raise the seats and the railings.
Results
The Pierre Bachelet venue is presently the biggest venue in the South of Seine-et-Marne department with 1600 seats (1294 seats in the telescopic seating system) or 3500 capacity when people are standing. The flexibility of the telescopic seating stand complements this totally modular complex that hosts everything from conferences and board meetings to concerts, cabarets and theatrical shows and performances.
An ongoing program of after-sales service, maintenance and training from our team of technicians mean the venue management team can keep the stands and seats in the very best condition for their audiences!

---