Operation
Manual Operated Retractable Seating
If the dimensions and weight of the tiered seating system allow it, the stand can be moved manually with the help of one or more pull-handles located on the front of the first tier.
Manoeuvring With Motorisation Built Into The Stand
Motorised manoeuvring is easier and more practical, allowing telescopic bleachers of all dimensions to be moved from one place to another. An electrical cabinet is built into the stand with all the necessary safety systems. The front of the first tier is removable to allow access to the motor in all positions.
The remote control provided can be configured according to the type of operation required:
Full or partial opening or closing of the stand
Travel in line with the axis of the stand in closed position
Rotation of the stand around a central axis.
Sideways movement: EURÊKA system patented by MASTER Industrie. The stand rests on wheels fitted with polyurethane tyres to avoid damaging your floor covering.
Our technicians will train you to use the system to ensure it is operated correctly, thus guaranteeing many long years of service.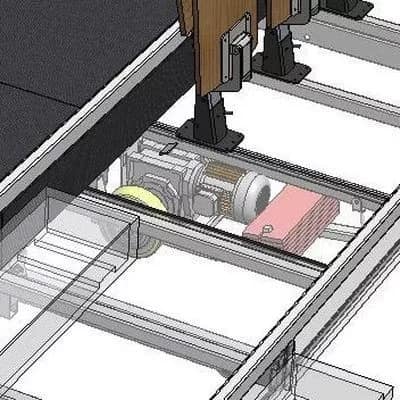 Eurêka System
After offering various systems for moving folded telescopic seating systems, MASTER Industrie has developed the innovative patented EURÊKA concept, the only travelling system for moving stands without losing any contact with the ground. This system ensures the stand is completely stable and thus guarantees the safety of the people handling it, allowing all the linear and rotational movements required to move your stand to the desired position. See page dedicated to this system.
Rotation Of The Stand
If you need to change the direction of your MASTER Industrie stand, we can offer a complete system allowing you to perform this manoeuvre simply and safely. A more comprehensive remote control and specific training will be provided.
Moving The Stand On Its Axis
Do you need to move your stand once folded or do you want to be able to open it at different places in the hall to allow a variety of configurations?
MASTER Industrie offers a simple system allowing you to do so. Locks are fitted at each location where the stand is to be unfolded to guarantee its stability.
See our page showing the patented Eurêka system which allows you to move your seating system on three axes.