Other Options
Seat Numbering
Place numbering not only allows you to seat your spectators, but can also improve the visual appearance of your auditorium.
With this in mind, MASTER Industrie has come up with various possibilities for numbering the chairs on your telescopic seating system.
Whether you opt for engraved PVC plates or decide to have the numbers embroidered directly onto the fabric of the seat covers, you will have a choice of different colours, fonts and heights for your numbers. Let our technicians help you make this surprisingly important choice.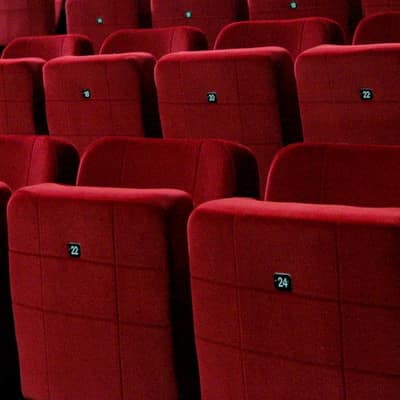 Aisle Illumination
Lights marking the aisles on your MASTER Industrie telescopic bleachers guarantees the safety of spectators moving around in the semi-darkness.
MASTER Industrie offers various lighting solutions which can also enhance your retractable bleachers.
Photo Luminescent Aisle Lights On Stair Edges
This system has several advantages, in that it does not require an electricity supply, will operate even in a power cut, and is discrete thanks to its low luminosity. The ambient light charges the strips in approximately fifteen minutes under normal lighting conditions (fifty lux minimum) and will provide aisle lighting for two to three hours, depending on the conditions.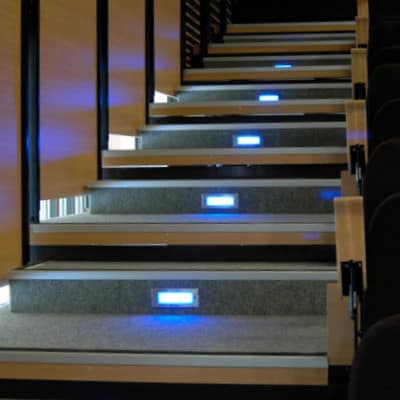 Aisle Lights Using Led Lighting Modules
These LED lighting modules are built into the risers, consume little energy and ensure the safety of the public however long the show may be. Their vertical installation has the advantage of avoiding them being walked on. This system is controlled by a remote control, allowing the intensity and colour of the light to be adjusted. Ground glass softens the resulting light.
LED Aisle Lights Built Into The Risers
Simple and discrete, the lighting of the risers by blue LEDs fitted vertically allows the aisles to be visible in the semi-darkness without altering the level of light in the hall.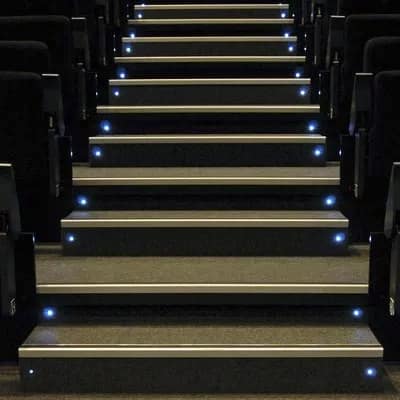 Aisle Lights Using LEDs Built Into The Stair Nosings
These rows of blue LEDs mark the edge of the stairs, ensuring the aisles are perfectly visible whatever the lighting conditions may be.
Writing Tablets
MASTER Industrie can add writing tablets to your chairs. Various configurations and dimensions are available, with individual tablets or shared between two or three seats, folding or fixed, attached to the backrest of the seat in front, on a leg or to each chair.
Contact our sales team who will advise you on the product best suited to your project.