Finishes
Decking
The decking of MASTER Industrie telescopic seating systems is made of plywood or Superpan and is attached to the structure of the tiered seating. It is a minimum of 18 mm thick, providing the public with optimum conditions for moving around on the stands.
The decking is M3 fire rated and can be non-slip itself or delivered with a covering of your choice.
The rear risers give a more finished appearance to your stand and improve the auditory experience of your spectators by limiting the transmission of sound waves to the metal structure. Ideally this should match the floor covering.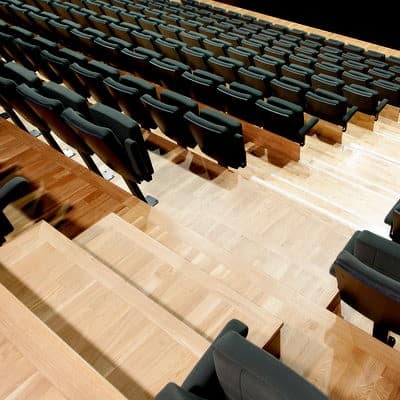 Floor Covering
The covering on the decking of your retractable bleachers provides the essential finishing touch for the comfort, acoustics and harmony of your tiered seating. You have a choice of different types of carpet, linoleum, PVC floor coverings or parquets.
Facings And End Panels
The end panels fitted to your MASTER Industrie telescopic seating system are very important for the final appearance of your project. Apart from when the stand is positioned between three walls, panels or curtains are necessary to guarantee safety and prevent access under the stand, and the finish hides the frame.
There is a solution for all projects and all budgets among the many developed by our design office. MASTER Industrie end panels can be removable, telescopic or hinged and are made of wood or technical fabrics.