Key Figures
Launched in 2016
2400 steats
720° rotating stand
THEA award winner in 2016
Bring a new dimension to your show with a rotating stand

In 2016, Puy du Fou, a history-themed park, devised an outstanding show which relied on an innovative concept: "moving from stage to stage".
The park
Created in 1978, Puy du Fou portrays French History from the 3rd Century AD through the First World War. All summer long, its 193 acres of land host 60 attractions as diverse as roman gladiators, knight duels and romance in the trenches.
With 2.3 million visitors in 2018, it ranks among the top 10 most visited amusement park in Europe. Its success has been widely acknowledged, and the park has won several awards such as the Thea Classic Award in 2012.
The show
In 2016, the park launched a new show "Le Dernier Panache" (i.e. "The Last Stand"), an historical enactment of the fight of a French naval officer for his region's freedom. Set in a specially built 80.730 ft² theater, the audience witnesses the story being unfold in a long 360-degree travelling show.
During 34 minutes, the public attends 20 different scenes with a smooth transition between the stages. The show mixes digital projection and the play of 30 actors to bring the story to life
Master's Solution
The core of the concept is the rotating stand designed by MASTER Industrie. With a diameter of 151 feet and a height of 39 feet and 5 inches, the stand is a technical masterpiece.
With a seating capacity of 2400 spectators, moving the stand was a challenge. When the public is in place, the overall weight is 530 US tons. To make it happen, 18 motors with adjustable speed-drive provide an accuracy of ± 0.7 inches. And even a malfunction of several motors would not hinder the stand movement, so it stays perfectly synchronized with the show.
The construction phase of the project was also a challenge. It only took 10 months, and thus required simultaneous work and efficient day to day management. On the stand, up to 6 different trades worked at the same time. Ultimately, the overall cost of the project was 21.6 million dollars.
Today's Success
The show was an immediate success, praised by both critics and the public. In high season, several thousand visitors flock to the seven daily performances. In 2016, the show was awarded the industry-recognized Thea Award for Outstanding Achievement.
"Le Dernier Panache" is considered the most daring show ever created at Puy du Fou and is greatly enhanced by the technical prowess of its rotating stand.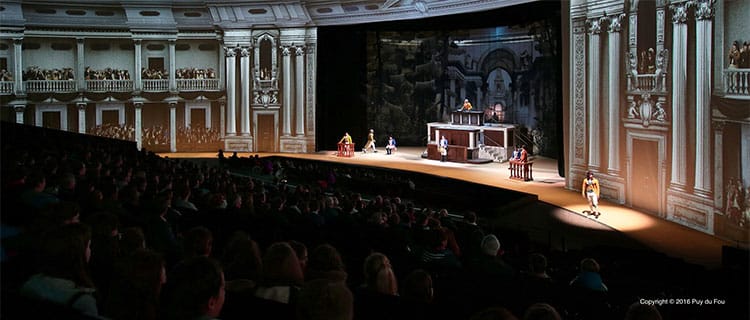 Watch the rotating stand in motion!