Working with our Swedish agent, Sparta System, we have installed a new telescopic stand for the historic Ritz in Arvika, providing the venue with the flexibility to accommodate large crowds.
The Ritz Culture House in central Arvika was inaugurated as a People's House in the early 1960's. During 2018, it was renovated to become a cultural venue and meeting place for a variety of cultural activities.
Flexible Telescopic Stand
With the new telescopic stand, the team at the Anrika Ritz can quickly change the room from 251 seats for concerts and plays to a clear floor space for exhibitions and banquets. On the side balconies there are 38 fixed chairs and on the floor in front of the retractable stand there is the option of adding 60 MASTER Beam removable chairs. There are also spaces on the balcony and in front of the stage which have been adapted for wheelchairs.
Elegant Seating Choice
Many features from the sixties have been preserved and the color selection for the refurbished space was inspired by the original walls. Elegant MASTER One seats with armrests were chosen to complement the style of the room. LED lighting with a dimmer and adjustable color was installed in the stairs.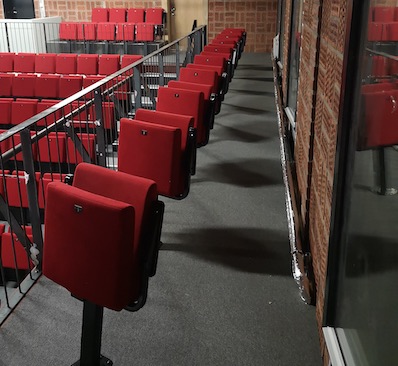 Optimizing Capacity
The venue managers want to be able to host many different types of events at the culture house. The largest space, the Ritz Scen is equally suitable for concerts, theatrical performances exhibitions, conferences, lectures and parties. The retractable seating provides a significant capacity buffer to ease the pressure of large crowds.
Working In Partnership
Sparta System introduced Master Industrie to their client, the municipal community's contractor and we were able to offer advice on the best approach to the project's seating and to recommend the right combination of seats and stand. Since the end of the project our agent has been in contact on several occasions and we have been able to respond quickly and effectively to their queries. As our partner, Sparta System will be able to service the seating system when required.
The agent noted that working together on this interesting project has moved their business forward and they would not hesitate to work with us again.
We are actively looking for distributors, agents and dealers around the world. Find out more about becoming one of our global partners.