The fixed benches in a tiered grandstand are possibly the most enduring picture of bleachers that most of us hold in our mind's eye but the modern approach to, and concern with, space utilization at any venue means retractable bleachers (or telescopic bleachers) are very popular; especially at sports venues.
While the bench format of traditional bleachers allows for all shapes and sizes of human being to sit on them, when you throw in a retractable option, a building is able to support events other than a single basketball or soccer game.
Automated and mobile retractable bleacher seating can transform a sports stadium into a multi-purpose venue, capable of hosting anything from a soccer game to an evening concert or an indoor circus! Optimal space utility comes from the ability to arrange seating in a range of creative configurations to suit any event and keep that footfall at a constant level throughout the year, helping to sustain revenues and cashflow.
Space Utilization To the Max
Retractable bleacher stands are pretty much possible at any venue. The use of built-in power to drive the transitions from one configuration to another makes it easy to extend a stand to full capacity for one event and draw in the rows to accommodate a smaller number of people for the next. Their space-saving attributes are apparent when not in use too. Stands can also be stacked accordion-style to be wheeled away, reducing the storage depth to one row.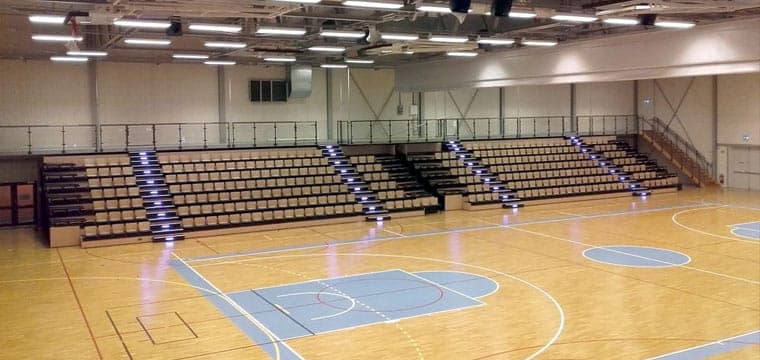 All this mobility - stacking and unfolding and general flexibility doesn't mean the retractable bleacher stands compromise on stability or safety – in fact, compared to the shaky nature of many traditional bleachers, the telescopic bleacher is streets ahead in terms of strength, stability and maneuverability. With aluminium or steel under-structures and frames designed and built to last, the structure, when unfolded ensures spectators feel safe, secure and comfortable. For the seating stand operations, a good retractable bleacher system will have strategically placed rollers that require zero adjustments to work correctly, even after years of use.
Finishing Touches Ensure Everything Works Like a Dream
Wheels, guiding and locking systems will all operate smoothly time after time. Some systems can have an optional automatic device enabling rear wheels to retract when the entire grandstand is fully opened and filled to capacity with spectators. This allows the pressure to be more evenly distributed over the ground surface. Additionally, retracting wheels can benefit from a load distribution system that reduces the possibility of "denting" on the floor from load-bearing wheels whether from moving the stands, or from the weight of spectators when in-situ.
Flexibility extends to all kinds of finishes and accessories for the seating stands. Floor covering options for the decking; different types of linoleum, carpet, parquet and PVC coverings are available to add comfort, improve acoustics and enhance the harmony and general ambience of a venue. Aisle lighting, railings and surface protection options all combine to produce the ultimate in modern retractable bleacher systems. There will always be a place for the traditional bleacher – there are plenty in use out there even today; but if you're going for new, the modern retractable bleacher seating stands are a worthy successor.