As a buyer of a seating system you will be looking for a construction that maximises the potential of your venue. Fixed seating restricts both the type of event that can be held and the number of attendees. The solution you are looking for is a modular seating system. Stands of chairs can be moved away, or arranged in a new configuration, allowing for a full utilization of your venue. Seated areas can be converted for a standing audience, both swiftly and safely.
Quick Turnaround
The speed of turning around your venue is as key as the flexibility. You need to minimize the length of time that your venue is empty and the costly labor required to set up for your next event. An example of this is the Congrès et Expositions de Bordeaux. This large, international convention center is vital to tourism as it hosts over 350 events a year, welcoming 900,000 visitors to conferences, exhibitions and trade fairs. Several different events are held at the same time and turnaround must be quick ensuring that they are on the same competitive footing as other locations.
How this is done is arranging seats in a modular system so they are mobile and retractable, helping you to say goodbye to lengthy manual labor costs to rearrange them in your space. Incorporating motorisation into the stand speeds up the process further. The Eureka automated system allows you to move the stands, both horizontally and vertically, by remote control.
Comfort & Style
The improvements in technology by no means compromise the comfort of the seating. Developments in modular seating systems expand the style of seat away from a typical plastic bleacher. Let's face it, if your audience had a comfortable experience at your venue, they are more likely to return. Seat padding can transform the enjoyment of a long performance and the finishing of a seat adds to the aesthetic wow factor of a hall or stadium: fabrics and colors can be chosen to compliment your space.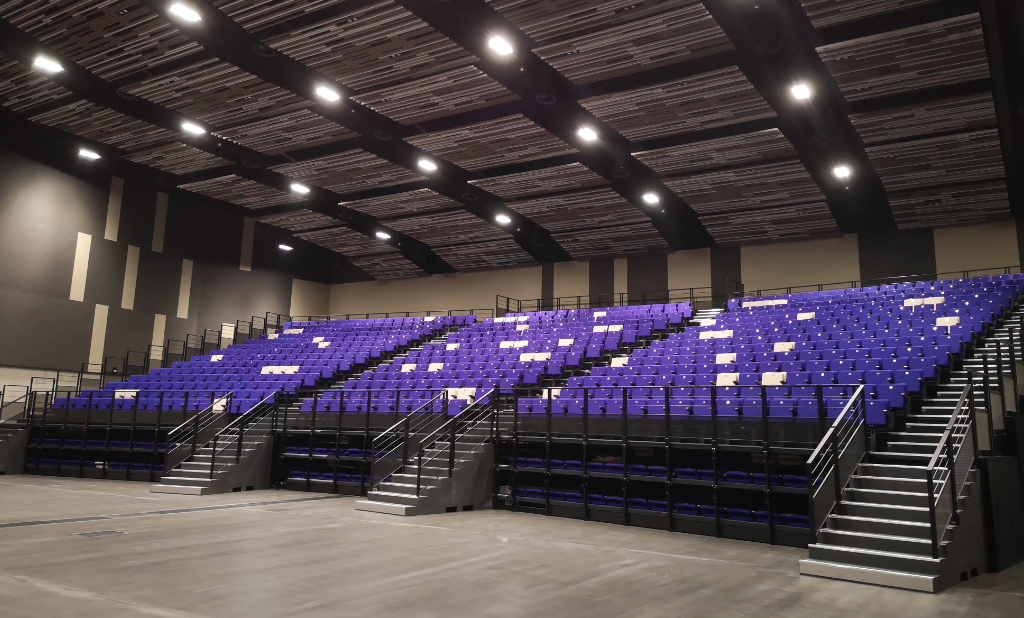 Flexible & Adaptable Seating
The flexible nature of modular seating systems allows them to be designed to work in the broadest range of venues. La Barroise in France is a newly built hall used for a variety of events. The dual challenges of its unusual shape and broad range of uses resulted in a bespoke seating system. There are three sections, the middle of which is trapezoidal to fit the shape of the room, which taper towards the front to fit the narrowing space. The venue needed to be adaptable to the demands of the local area which can range from hosting exhibitions to sports events. Each section of the seating system needed to be able to open separately in any part of the room.
Innovative Seating Systems
A modular seating system has not only met the demands of a provincial hall but also Europe's largest arena at Paris La Defense. The 1,011,808 ft² arena is the home of the French international rugby team and has hosted world renowned music acts including The Rolling Stones, Paul McCartney and Beyoncé. The challenge with this construction was that audiences for sports and music events had differing needs. Concert goers require high tech sound, light and vision for the best experience. Sports need a specific substrate to play on and the seating needs to provide a clear view of the action. Combining these hurdles, with the arena's unusual U-shape and a variation in audience size for each event, made for a challenging design brief.
This resulting creation was an innovative modular seating system. For large-scale sporting events the stands can be completely opened. Where matches use a grass pitch they are partly erected and for concerts, where audiences stand and dance, they can be completely closed and put in storage.
We have shown you how a modular seating system can be designed and adapted perfectly for your venue. This maximises the potential of your space and the profits you can achieve.